In 1945, the first Bahá'ís settled in Sotik, Kenya. Today, the Kenyan community has more than 180 local Bahá'í administrative councils, known as Local Spiritual Assemblies.
Women and men have been and will always be equal in the sight of God.

– Bahá'u'lláh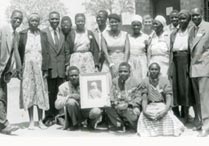 The Bahá'í community in Kenya is known for its work in promoting social and economic development activities such as building skills in weaving and health care.

A Bahá'í inspired organization called "The Livelihood Foundation" carries out activities related to health care and education. Through this project, a health centre with maternity wards has been constructed and is operational. The Foundation also promotes education on AIDS for local people.