The Bahá'í Faith was introduced to Uganda in 1951, making it one of the earliest Bahá'í communities in Eastern Africa. Since then, the Ugandan Bahá'ís have firmly established the Faith in their country, with members representing nearly every tribal and religious background and being located in over 2,800 localities throughout the country.

The first Bahá'í House of Worship on the African continent, completed in 1961, is situated in Kampala and has become a well-known landmark of the capital. Bahá'í Houses of Worship are spiritual gathering places open to all peoples.
The well-being of mankind, its peace and security, are unattainable unless and until its unity is firmly established.

– Bahá'u'lláh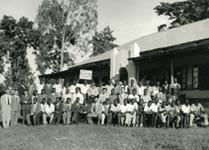 The Bahá'í community sponsors several social and economic development projects, such as providing training and support for local volunteer health workers in the Kumi and Soroti districts in Eastern Uganda, and UPLIFT, the Uganda Program of Literacy for Transformation, which aims to assist participants acquiring the skills, knowledge and incentives for self-directed, life-long learning and emphasizing moral education and inter-religious harmony. Bahá'ís have also founded schools for preschool and primary education.