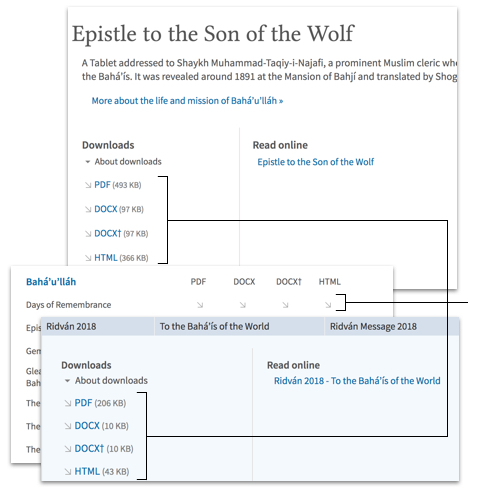 Download
links
Publications in the Bahá'í Reference Library are available in PDF, DOCX and HTML formats for download and use.
Note: DOCX and HTML files require using a font that contains a specific block of the Unicode standard, namely "Latin Extended Additional", to correctly display texts in the Library that include letters with a "dot below" such as Riḍván or Ḥuqúqu'lláh.
Specific publications can be downloaded from their overview page or in its reading view (see Viewing Publications Online).
Download links for publications are available on the "Downloads" pages of the Authoritative Writings and Guidance and Other Bahá'í Literature sections.
Individual messages of the Universal House of Justice and communications written on its behalf are available for download on the Messages of the Universal House of Justice page.