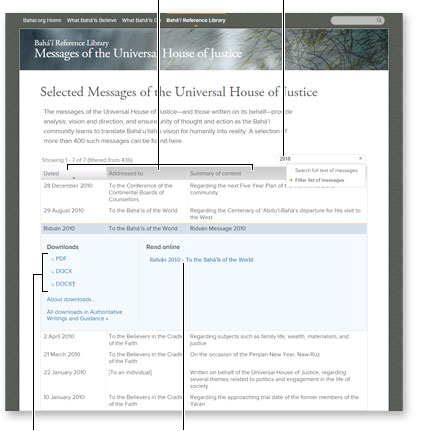 Message filter
Column headings
Download links
Open document
By default documents are sorted in reverse chronological order. Clicking on the column heading "Addressed to" sorts document by their addressee and clicking again on a column heading reverses the sorting order.
In order to quickly locate documents, the list can be filtered based on the date, "to" and summary information.
Filtering only applies to the information directly visible in the list and does not search the contents of documents.
Filters can be applied by, clicking on the search bar above the Messages table on the right, and selecting "Filter list of messages". Enter terms or partial terms into the "Filter document list" box. The list will update as full or partial terms are entered, showing only rows that contain each term/partial term. The filter can be cleared by simply pressing the "Esc" key or clicking the 'X' icon to the right of the filter box.
Some examples of filters include:
By "Date": "1986", "28 dec", "ridvan"
By "To": "world", "counsellor"
By "Summary": "training", "family"