Searches can be performed from anywhere in the Library using the search box in the site navigation menu.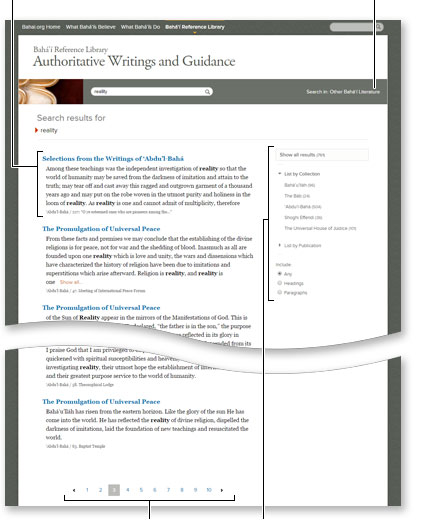 Search result
Search "Other Bahá'í Literature"
Search pagination
Result filters
Each search result contains the publication title that links to the passage, a brief "snippet" that provides context for the search result, and reference information. Clicking a search result link will open the selected passage in the publication with the search terms highlighted.
By default results are limited to Authoritative Writings and Guidance. To search other publications, click the "Other Bahá'í Literature" link which appears in the upper right area after performing a search.
When a search produces many results, they are divided into pages of 20 results. To view results beyond the first page, select a page number from the bottom of the results.
Search results can also be filtered by collections or publications. To view results from a certain collection, select the collection from the right column of the search page. Results from a certain publication can be viewed by selecting "List by publication" to expand the list, and selecting the publication.