Founded in 1953, the Lesotho Bahá'í community now includes more than 80 localities throughout the country. The Bahá'ís are strong promoters of universal education, the equality of men and women, the abolition of all forms of prejudice, and the oneness of humanity.
The well-being of mankind, its peace and security, are unattainable unless and until its unity is firmly established.

– Bahá'u'lláh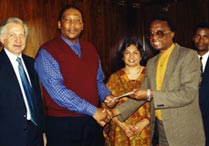 They seek to spread the message of Bahá'u'lláh through prayer gatherings, classes for children about personal virtue and moral education, and study circles for adults and youth on fundamental spiritual principles.